Jefferson City Accident Attorneys
Jefferson City Accident Lawyers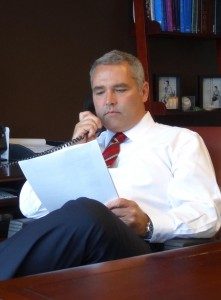 When you have been seriously injured or are caring for an injured loved one, you need to know how you will pay for medical care, what you can do about lost income and how you will survive in the future is you are unable to return to work. If you have lost someone in an accident, you are facing overwhelming grief along with the fear of what the future will hold for your family. Our Jefferson City accident attorneys are here to answer your questions, take the pressure off while you focus on getting well, and fight for justice for you.
Jefferson City Accident Damages
If your injuries were caused by someone else's negligence or wrongdoing, or by a defective product, you may be able to recover economic and noneconomic damages including:
Medical expenses and future medical expenses

Rehabilitation and therapy

Home health care

Long-term care

Special equipment and home modifications to accommodate disability

Lost income and future lost income

Lost earning capacity

Disability

Disfigurement

Physical pain and suffering

Emotional anguish

Loss of enjoyment of life

Loss of consortium
We can also help you recover wrongful death compensation if you have lost a loved one in a fatal accident.
The Jefferson City accident attorneys of Protzman Law Firm are here to fight for maximum compensation for you. We know that the insurance companies will make every effort to avoid paying you or to pay far less than your case is worth. You need full and fair compensation today so that the future costs of your injuries does not exceed the amount you receive, leaving your and your loved ones to pay for the injuries someone else has caused.
If you have been injured in an accident, in Jefferson City, please call the Jefferson City accident attorneys of Protzman Law Firm, at 816-421-5100 or contact us online today. We can help you and your family get the injury compensation that you need and deserve. Your initial consultation with our Jefferson City accident attorney is free of charge, and if we agree to handle your case, in most cases we will work on a contingency fee basis, which means we get paid for our services only if there is a monetary recovery of funds. In many cases, a lawsuit must be filed before an applicable expiration date, known as a statute of limitations. Please call right away to ensure that you do not waive your right to possible compensation.